Best Baby Swaddles for Little Wrigglers
There's something so sweet and peaceful about a sleeping baby wrapped up like a burrito. Swaddling is a traditional practice of wrapping a baby up gently in a light, breathable blanket to help them feel calm and sleepy. Research has found that Swaddling or wrapping your little one encourages them to settle faster.
For newborn babies who need to be swaddled, our Merino Wool Swaddle Sack and Organic Cotton Swaddle Wrap offer two different, but effective, baby swaddle options. Using breathable, natural fibres, both swaddles help your baby to settle quickly and remain comfortable while they sleep.
Organic Cotton Swaddle Wrap
Our delightfully soft swaddle wrap is made from breatheable natural fibres which allow for good airflow, reducing the risk of overheating.
It is also incredibly soft and gentle on baby's delicate skin.
The generous sizing ensures even a swaddling novice can accomplish the perfect baby swaddle.
Shop Now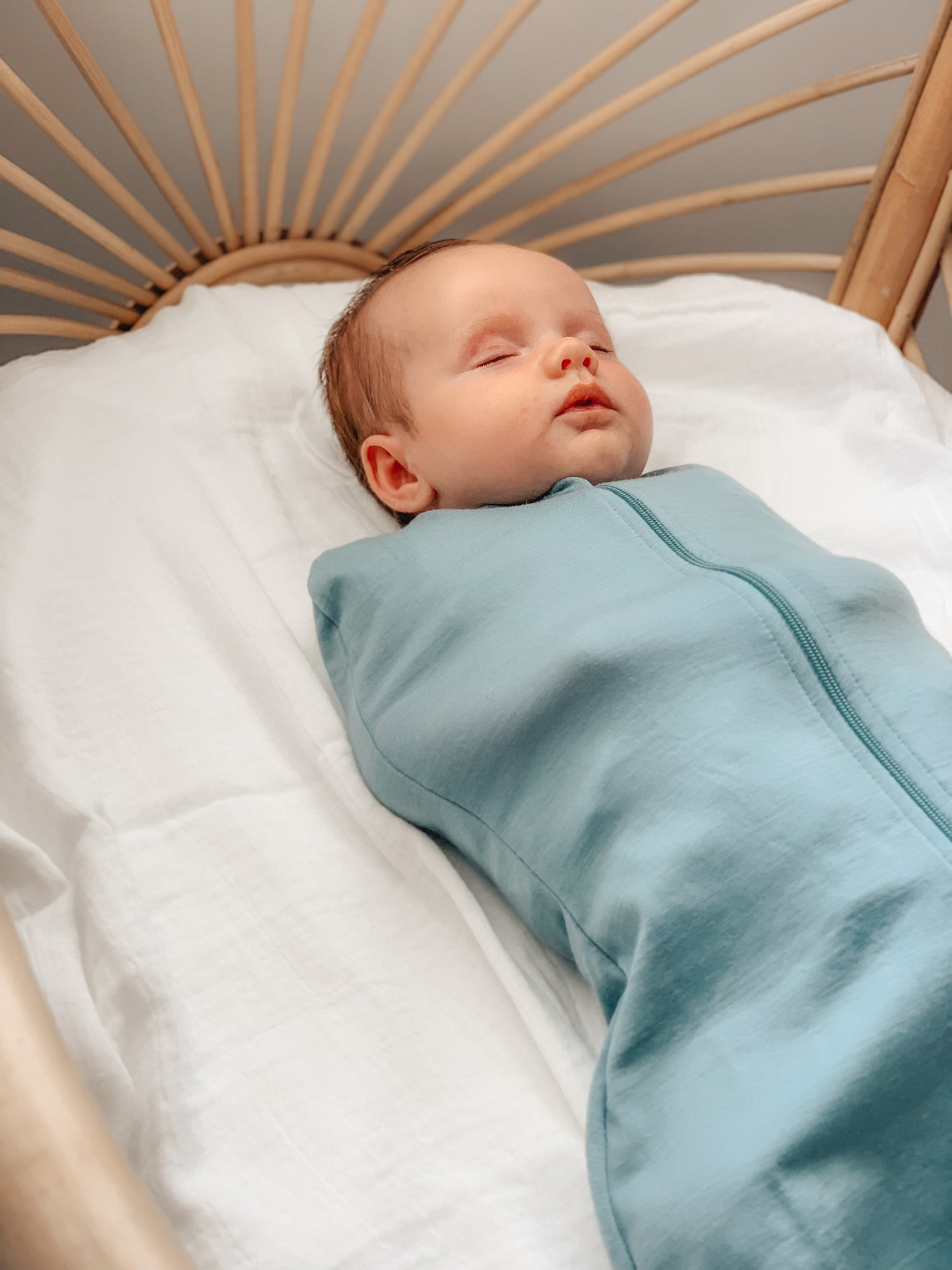 Joey Merino Wool Swaddle Sack
Our  Joey Merino Wool Swaddle Sack is designed for safe sleep, simple to use and keeps your baby feeling snug and secure all night long!
No more middle of the night origami trying to wrap your child in a complicated muslin wrap. The Joey Merino Wool Swaddle Sack has been designed to contain startle reflex while keeping baby snug, secure, comforted and warm.
It has stretchy fabric that contains houdini arms and prevents babies waking from the startle reflex.
Swaddle sacks are convenient when babies are too good at escaping the swaddle wrap.
Shop Now
All of our swaddles allow hips & legs to move freely to promote healthy hip joint development as guided by the International Hip Dysplasia Institute.  When swaddling your baby it is important to allow room around the hips for movement. We recommend our Joey Merino Wool Swaddle Sack or Swaddle Wrap to be used from newborn until your little one has outgrown the swaddling phase.  It is essential to discontinue swaddling as soon as baby starts showing signs that they can begin to roll, usually between 4-6 months of age but sometimes younger.
Swaddle collection
Regular price

Sale price

$54.00 USD

Unit price

per

Regular price

Sale price

$30.00 USD

Unit price

per

Regular price

Sale price

$96.00 USD

Unit price

per

Regular price

Sale price

$78.00 USD

Unit price

per
How do I swaddle safely?
The neck must be fitted to avoid a baby's head slipping down into the swaddle. To check for the correct fit, you should be able to fit two fingers in the neck hole when being worn.
Swaddles should allow for full chest expansion when breathing
The hips and legs need to be able to flop outwards into a natural position while the baby sleeps. Tight swaddling across the hips that hold the legs together is thought to contribute and increase developmental dysplasia of the hip (DDH).
Babies don't regulate their body heat very well and rely on their coverings to keep them warm but not hot. Do not overdress a baby underneath their swaddle and never cover their head at sleep time (e.g. with a hat or beanie).
Swaddling needs to be secure, without any chance of fabric draping over the baby's face.
Testimonials
Happy Mama

"I got it in 3-6 months. My daughter is 5.5 kgs. She's nice and snug with lots of room for growing as it has great stretch. Quality is amazing! So soft and I love the 2 way zipper. Makes night changes hassle free as it's minimal disruption to her beauty sleep."

- Aneta L

Great Quality

"Love the quality, beautiful fine knit..gorgeous colour.. so cosy."

- Suzanne B

Beautiful Swaddle Wrap

"The swaddle wrap came beautifully presented and arrived really quickly! It feels so lovely and soft and is a bonus that it's Aussie made :) thanks Billie and Bobbie! x"

- Frankie G